Getting The Job Done
Part of building your dream deck is the prep work – from scoping your backyard to planning where the furniture goes to gathering the right tools. Luckily, Trex® works as easily as timber, with practically all the same tools you use for timber.
PLAN YOUR DECK SIZE
1. Decide on the deck's location:
» Consider whether it's freestanding or attached to the house.
2. Decide on the size of your deck:
» You'll want to plan the size of your deck around how you'll use it.
Tip: arrange your patio furniture to determine approximately how much room you'll need to accommodate it.
3. Now calculate how much decking you'll need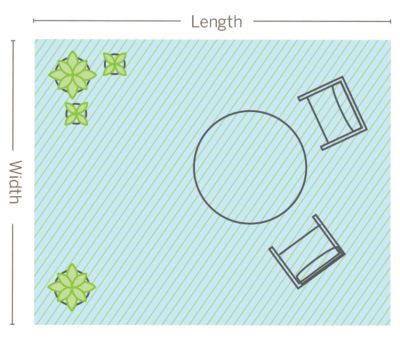 Shopping Preparation
When heading to the shop for supplies, it's best to be prepared with a plan. Have answers prepared for these questions:
What is the area of your deck?
Do some research to calculate the total number of deck boards you'll need
Are your items in stock, or will you need to place a special order?
Double check any additional tools you'll need for installation
Tools Checklist
Carpenter's Level

Chalk line

Circular saw

Circular saw blade

Crescent wrench

Drills and bits

Dust mask

Extension cord

Framing square

Gloves

Hoe and hose

Pencils

Post hole digger

Rafter square

Safety glasses

Shims or spacers

Shovel

Socket wrench

Stakes & batterboards

String

Tamper

Tape measure

Tool belt

Two-foot level

Wheelbarrow
Don't Forget
1. Permits
Check with your local council for what permits are necessary and any building code requirements
2. Homeowners Association
Understand any rules regarding deck size, colour, product type or design
3. What's Underground
Check with local utilities companies for the location of any underground cables or wires (a builder often helps with this).