« All ideas
Expert Advice
Q&A with Amanda Cotton: London Deck Build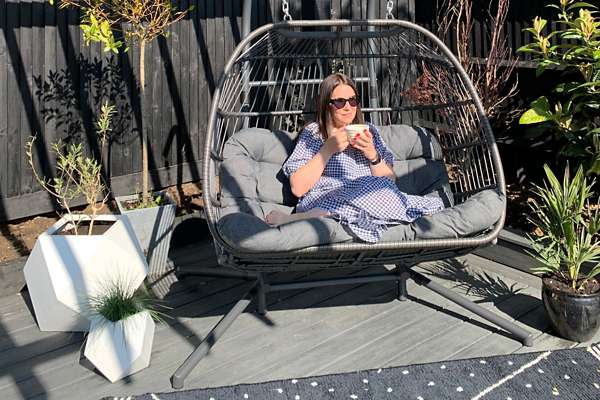 London-based fashion designer, Amanda Cotton started her blog, House Lust, to share her love for home design and inspire people with new styling ideas. She recently completed a backyard completed with a composite Trex deck to complement her detached 1930's home.
"This decking has given us a calm space to come, sit and relax." Amanda shares. When asked about why she chose Trex, she said, "Having a toddler and a full-time job means I haven't got time to maintain the outside spaces, so having decking which is easy to care for will be a dream. It was a no brainer. It looks great, will stand the test of time for durability, and is eco-friendly and sustainable."
Why did you choose Trex for your project?
I was reading up on composite decking brands and Trex kept coming up as the most highly recommended on review sites. I love how many colors Trex stocks and, after receiving my sample boards, I knew I wanted a Trex deck.
Did you have any hesitations or concerns about using Trex decking? If so, what?
I was skeptical about how low maintenance it would actually be having only previously had timber decking, which was always needing to be re-stained or washed. But, I've been amazed at how low-maintenance Trex decking really is!
Did you work with a TrexPro contractor or Trex dealer? If so, how was that experience?
Yes, we used a TrexPro contractor called Steve Brownsell from Living Landscapes Company. Steve was great and easy to work with. He installed the deck over two weeks and did a fantastic job.
From an installation standpoint, what are some of the main advantages of working with Trex materials?
The Trex Protect Beam and Joist Tape is ingenious to protect the timber framework below from moisture and prevent it from rotting.
What would you say are the greatest benefits of building with Trex?
The longevity of the deck itself, and how easy it is to maintain and keep clean.
How does Trex composite decking compare to timber decking?
Oh, Trex composite decking is amazing compared to timber decking! No more slimy, slippery surfaces like you get with timber decking. And, if you power wash it, the cleaning doesn't remove the color or stain like it would with timber decking.
How do you use your Trex deck?
We use it for happy hour and also working from home. Our garden is north facing and it's been installed at the bottom of our garden to optimize those last rays of sunshine in the evening.
Any tips or advice for other homeowners that may be considering using Trex for their outdoor living spaces?
Once you go composite, there's no going back to timber. Having already gone through a winter season with our Trex deck, we know it doesn't need much reviving other than a sweep and clean to get it ready for spring and summer.
Ready to start your decking project?