« All ideas
Expert Advice
Q&A with HGTV's Alison Victoria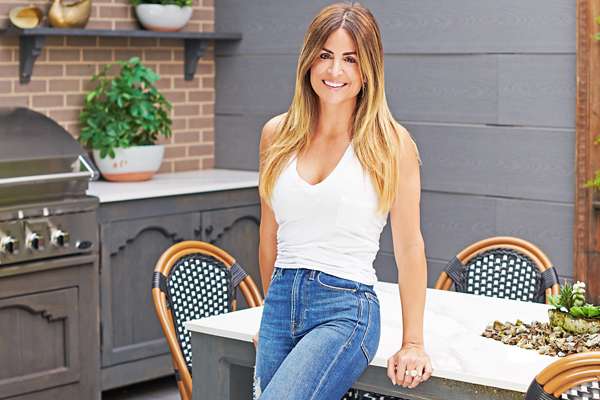 Home improvement expert Alison Victoria, host of HGTV's "Windy City Rehab" wanted to create an outdoor space where she can enjoy the fresh air, a glass of wine, and the company of close friends and family- without adding additional maintenance into her busy schedule. All things considered, Trex was the obvious choice for Alison's Chicago residence. We followed up with Alison to hear more about her experience working with Trex.
How did you come to choose Trex for your deck projects?
I chose Trex for my decking projects because their high-performance composite decking is unbeatable! It resists rotting, staining, and cracking. A lot of composites do not look like hardwood. I love that Trex gives you that beautiful wood deck look with little maintenance and zero headache. Plus, they have a beautiful selection of colors available to accomplish any design you're trying to achieve.
What are the top three reasons you recommend Trex?
The top three reasons I recommend Trex are quality, design, and it's hassle-free for a lifetime! How does Trex compare to other decking materials? Trex really is unbeatable. Many composite decking products fail to give you the aesthetic and quality offered by Trex. Trex gives you the look of a hardwood deck without the hassle and maintenance.
From an installation standpoint, what are some of the main advantages of working with Trex materials?
If you want to DIY, some of the main advantages of working with Trex materials are that they provide step-by-step installation guides. If not, they have Trex certified professionals that are available across the country!
Have you encountered any surprises since you started working with Trex?
I have not encountered any surprises since I started working with Trex! The products are just as advertised! What would you say are the greatest benefits of building with Trex? I'd really have to say the greatest benefit to building with Trex is the quality and durability of the product. I'm all about low-maintenance design, and Trex will give you that.
How do you use your Trex deck?
I use my Trex deck all the time! Whether it's a quiet glass of wine, apps with friends, or dinner al fresco, I can't get enough summer and fall nights in Chicago!
What is your favorite aspect or feature of your Trex deck?
I would have to say my favorite aspect of my Trex deck is that it's ultra-low maintenance – even in my hometown of Chicago. I achieved the look of a wood deck without the hassle and constant upkeep.
Any tips or advice for other homeowners that may be considering using Trex for their outdoor living spaces?
My #1 tip when designing an outdoor living space is to consider how you live before you make any decisions! Do you live in a cold or warm climate? What will you use your deck for? Trex offers low-maintenance, quality decking that works for practically any situation.
Ready to learn more about Trex composite decking?