OUTDOOR LIGHTING FOR YOUR DECK
The Bright Idea
With the right light, you can take any outdoor deck from invisible to inviting. That's why Trex has expanded our lighting offering to cover the whole landscape. Trex Outdoor Lighting enhances curb appeal with energy-efficient LED illumination that makes for safer nighttime strolls and impressive deckside ambience. Best of all, the deck lights install in a snap and disappear into their surroundings for a truly sophisticated look.
Why choose Trex deck lighting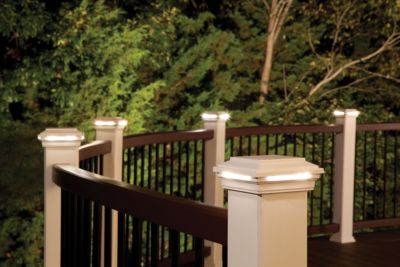 High Performance Features
Energy-efficient Cree® LEDs give off long-lasting illumination
Dimmable glow matches the mood of any outdoor party or dinner
Remains weather-proof and salt air resistant in the toughest climates
Offers total lighting control via timer and optional dimmer with remote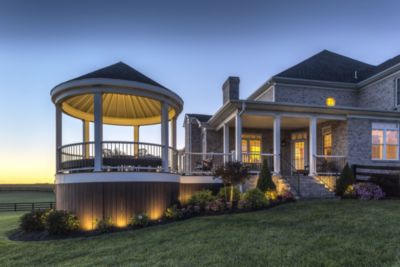 Perennial Beauty
Sophisticated fixtures create custom outdoor lighting effects and designs
Ambient light improves the safety of paths and stairways
Out of sight during the day, beautiful light every night
Available in a variety of colours to complement any outdoor space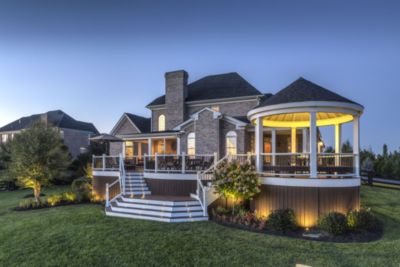 Trex Through and Through
Part of a complete Trex package
Trex® LightHub™ connection system makes set-up a snap for DIYers
Outdoor Lighting builds into new decks and landscaping or retrofits into existing spaces
Keeps things green with 75% less energy usage than traditional incandescent lighting
Deck Lighting Fixtures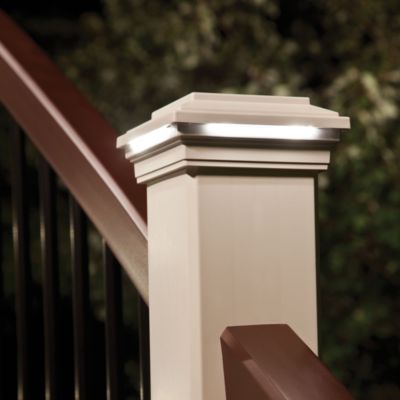 POST CAP LIGHT
Tucked discreetly under the cap, Post Cap Lights provide a warm downward glow and easy wayfinding.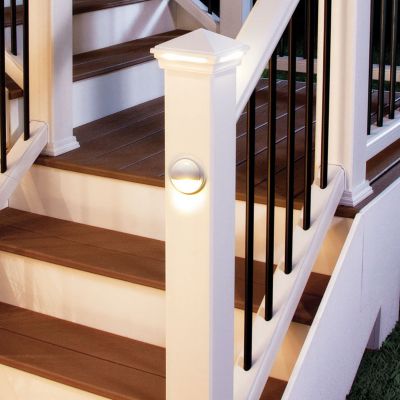 DECK RAIL LIGHT
These indirect lights reside directly on the rail post to illuminate the beautiful deck below.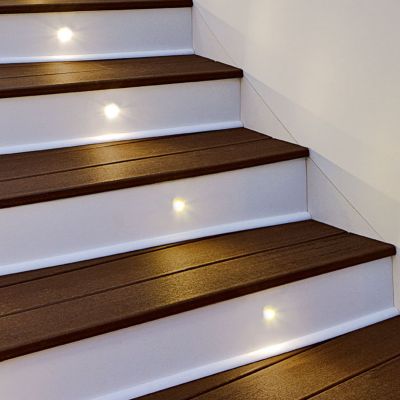 STAIR RISER LIGHT
Installed into step risers, riser lights are durable enough to handle years of passing foot traffic.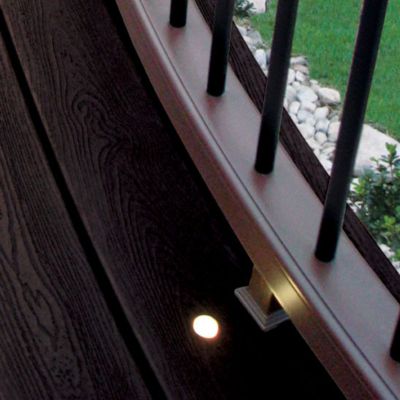 RECESSED DECK LIGHT
These subtle dot lights install flush on the deck boards to efficiently light the way.
Works Well With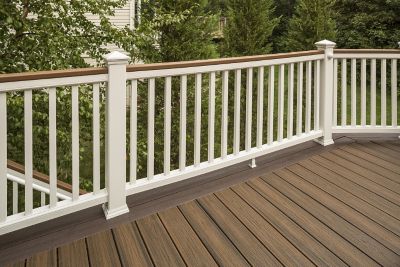 Trex® railing is the perfect host to our deck lighting: the downward-cast angles at just-the-right height keep your party moody and your sky dark. Plus, easily retrofits into existing railing.
TREX DECK OUTDOOR LIGHTING FAQS
How can I light up my deck?
Illuminating your deck is easy with Trex. Trex offers a variety of ways to brighten your outdoor living space. While our deck post cap lights or deck rail lights can be used to illuminate deck posts and surrounding areas, our riser lights make sure you can see each stair when it's dark outside..
Can you put lighting in composite decking?
You can install Trex recessed lighting directly into composite decking to increase visibility on all areas of your deck. These lights will be flush with the surface of the deck, so you don't have to worry about them posing a tripping hazard.
Is Trex deck lighting worth it?
Our customers find value in Trex deck lighting because proper illumination makes it easier to enjoy your deck after sunset. This can be especially appreciated during those warm months when you want to extend your time outside enjoying your outdoor living space. In addition, lighting can make your deck safer. When your deck is well-lit and has optimum visibility, deck lighting can help prevent trips and falls.
How long do Trex deck lights last?
Trex takes pride in providing the highest quality products, so you can rest assured that your new deck lights will last for years to come. We are so confident in our product that all lights are backed by a seven-year warranty.