Whether you want to add resale value to your home in the future or better enjoy your backyard right now, building a deck is a great way to enhance the beauty and curb appeal of your home. Like any rewarding endeavour, building a deck starts with careful planning.
From obtaining the proper permits to making sure your deck is built according to standards, we'll walk you through the steps you'll need to take to make the deck of your dreams a reality.
Step 1: Design Your Deck
Before applying for any deck permits, you'll need to have design blueprints to present for your council's approval. You can either work with a licensed contractor who can help you with your design, or look to some online tools to help you design your deck. Good design involves thinking about how your deck will be used, structural elements to maintain its integrity, as well as incorporating your own style sensibilities and aesthetics.
Before getting started, you'll want to keep some key design considerations in mind. Consider the square footage you have to work with and any landscaping features, including where this deck will attach to the exterior of your home, or if you prefer a free-standing deck.
How you plan to use your deck will play a role in conceptualising your design. For instance, if you have a small backyard, but plan to entertain guests, consider a multi-level deck with built-in benches to make the most of your space. If you plan to incorporate a pool or hot tub, be sure your deck is designed to handle the weight of these welcome additions to your backyard oasis.
Additionally, think about what type of railing and lighting you want to incorporate into your deck. Be sure to keep these design elements in mind when planning your deck's layout. While balustrades and railings can enhance the beauty of your deck, it also provides a level of both safety and privacy. Similarly, thinking about the types of deck lighting you may want to weave into your deck's design can also give you a way to add flair – and functionality. Post cap lights, embedded riser lights and deck rail lights can not only illuminate your deck, but enhance visibility of stair treads and railings if you're enjoying your deck after dark.
Step 2: Choose Your Deck Material
Factors such as your budget and the level of upkeep involved in maintaining your deck can play a critical role in helping you choose the right material. So can any POAA or HOA requirements that may limit your choices to only approved colours or materials for uniformity within your development
Two of the most popular decking material options are composite decking and timber. The cost and quality of timber can range from more affordable options like treated pine to exquisite (and expensive) hardwoods. Regardless of type, all timber decking will require regular maintenance including sanding, sealing, and staining/painting every two to five years, as well as twice-yearly cleaning. Timber decking may need to be replaced every 10 to 15 years to maintain structural integrity and replace any dilapidated boards.
On the flipside, composite decking can mimic the look of high-end timber, but requires very little maintenance. Made from eco-friendly materials, Trex composite decking blends reclaimed timber with recycled plastic film, which makes it less susceptible to the elements. Due to its semi-synthetic construction, composite decking won't warp, rot, or fade like natural timber. Although it costs slightly more than timber, composite decking offers less hassle in terms of upkeep. No worries about insect infestation compromising its integrity or need for painting and sealing! On average, properly maintained composite decking can last for 20 years or more.
Step 3: Plan Your Deck
Starting with a solid plan can not only help you build a deck that works with your unique space, but can also help you determine the components you'll need to make it happen, including how much material you'll need. Planning your deck can help you to determine the space and dimensions you'll need to create a deck that serves as a beautiful – and functional – extension of your home.
Step 4: Obtain Permits
Before you break ground, check with your local council to obtain the correct permits for your deck. When applying for a permit, you'll want to submit any design plans and blueprints to be sure your deck meets boundaries and code, including the type of materials you plan to use. Similarly, if you live in a townhouse or condominium, check with your board of directors or POAA. Council rules and regulations can vary based on where you live and can impact the type of materials you can use, as well as minimum standards your deck must meet in order to be compliant
Step 5: Pick Up Tools Needed
If you're going to DIY your deck, having the right tools is essential before getting started. Some tools you'll need to get the job done include:
Handsaw
Chisel
Square
Hammer
Shovel or post hold digger
Tape measure and level
Screwdriver (Phillips and flathead
Cordless drill and bits
Adjustable wrench
String line
Wheelbarrow
Tool belt
Tamper
Safety glasses, dust mask, and gloves
Check out our handy DIY checklist for a full list of tools we recommend to have on-hand to make building your deck as easy as possible.
Step 6: Measure the Deck
As the saying goes, "measure twice, cut once." Your deck design and plan will let you know the precise dimensions and measurements needed to bring your new deck to life. Start by measuring and marking the perimeter of your deck with string lines. Don't forget to include the height of joists and decking. The thickness and measurements of your deck boards will help to determine the height of your deck. Refer back to your design blueprint to determine proper placement for stumps.
Step 7: Install stumps and bearers
This step is often considered to be the most complex part of building your deck. Stumps and bearers work together to form the supporting structure of your deck. Before each step, stop to measure and check that your levels and angles are correct before moving onto the next:
1. Measure and mark where your stumps will be placed.
2. Dig holes for your stumps making sure they are the correct height, width, and depth based on your approved plans and permit. Typically, stump holes will need to be 600mm deep.

○ Pro tip: It doesn't hurt to have an inspector review your placement to ensure they are correct before you install stumps and pour concrete. Take every precaution to be sure everything lines up correctly before proceeding to the next phase.

3. Using your wheelbarrow, mix concrete and pour it into the stump holes, filling at least half way.
4. While the concrete is still wet, add your stump, making sure it's properly aligned. Use a level to verify correct placement.

○ Pro tip: You can use string to hold your stump in place, making sure it's plumb and stays vertical.

5. Allow concrete to dry overnight. Check to be sure all stumps are level and cut off any excess to ensure they are all at the correct height.
6. Next, cut your bearers to the correct size. Measure the height and length for placement of your bearers by using a spirit level or square to determine the dimensions.

○ Pro tip: To determine where to cut for height, subtract the height of your joists, bearers, and decking from the total height of your deck. To calculate the length you'll need for your bearer, measure the distance from your house to where your deck will end.
○ For added stability on long or wide decks, join two pieces of timber together to form a stronger bearer.

7. Angle your framing nails before hammering them through the bearer to secure them to the stumps. You can also connect them with glue and a nail gun.
Step 8: Install Joists
Floor joists form the final part of your deck's frame and help to support decking boards. It's important that they be properly installed to make your deck structurally sound.
1. Mark where joists should be spaced by evenly dividing your deck into sections based on width.
2. Attach your joists to the bearers using a nail gun or a hammer and nails.
3. Add struts or noggins to your joists, fixing them to alternating boards only. These noggins will add additional support to your deck's frame.
Step 9: Position and lay the decking
The hard part is over! Once your deck's framework is set up, providing you with a stable foundation, it's time to lay your decking. Even though this part of the process is much easier than installing stumps, bearers and joists, this is the most visible portion of your deck. You'll want to take your time to ensure your deck boards are laid accurately. This goes double if you're laying your decking in a herringbone or inlaid pattern that may be a bit more complex than boards laid in a straight-across horizontal pattern.
Be sure your boards are square with the existing structure and properly aligned with other boards. Using galvanised nails, secure your boards at both ends, approximately 15mm from each edge. Leave between 3mm to 5mm of space between the ends of your deck boards. Secure your next board, leaving roughly 5mm of space between your boards to allow for drainage.
Additional Tips to Build Your Own Composite Deck
Building a deck yourself takes time and careful preparation. Making sure you have the right ingredients – including a permit, a plan, tools, and materials – can make the process much smoother. Similarly, you'll also want to get a feel for the cost of your materials and just how much framing and decking material you'll need in order to create the deck of your dreams. Need some more sage advice before getting started? Get additional tips from the pros on building a composite deck in just under a minute:
Although building a deck is hard work, the end result is a gorgeous space that you and your loved ones will enjoy for years to come.
ROLL UP YOUR SLEEVES
From installation to maintenance, Trex® composite decking is engineered for simplicity. And to make your DIY decking project even easier, we've compiled all the resources you'll need to build like a pro.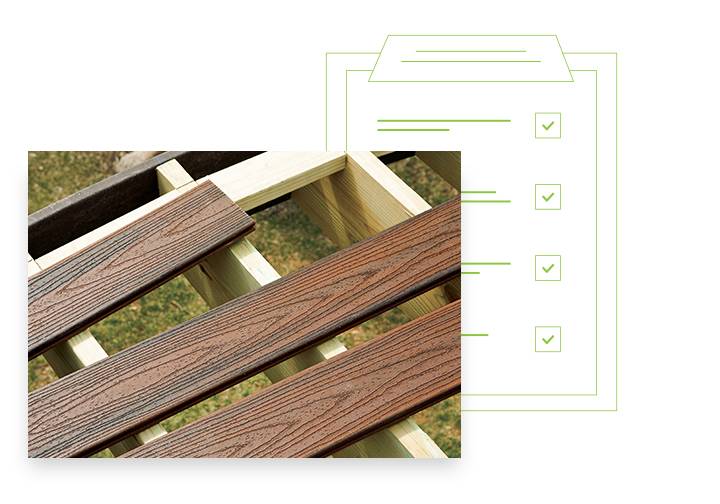 DIY Checklist
Helpful tips. Shopping lists. Here's all the info you'll need to get through the planning stage.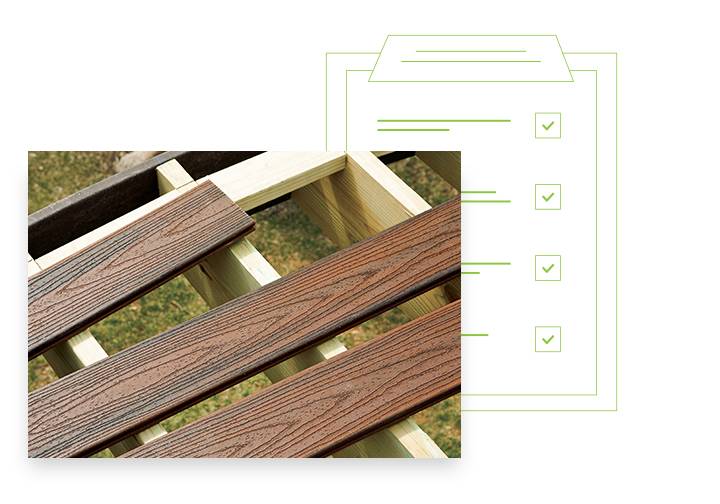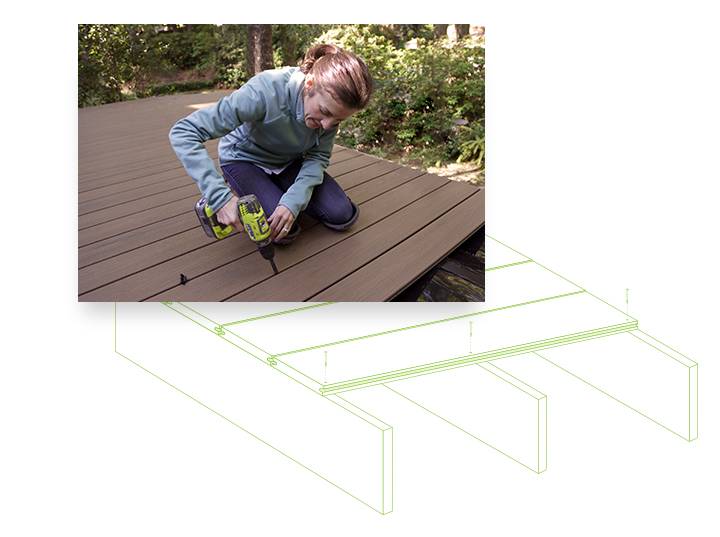 Installing a Trex Deck
Create your space confidently with our step-by-step instructions.
Product Profiles & Measurements
When it comes to building your own deck, the little details make a big difference.
ELEVATE YOUR IMAGINATION
Get inspired by real Trex decks and share yours with @TrexCompany.