« All ideas
Expert Advice
Materials & Costs For Building an Above Ground Pool Deck
Whether you're thinking about purchasing a new above ground pool or adding a deck to an existing structure, there's more involved than just aesthetics. You also want to investigate other factors such as cost, longevity, and safety. 
In this article, we'll help you get a feel for how much an above ground pool deck will cost, as well as offer tips to make sure your structure is safe, sturdy, and will last for years to come.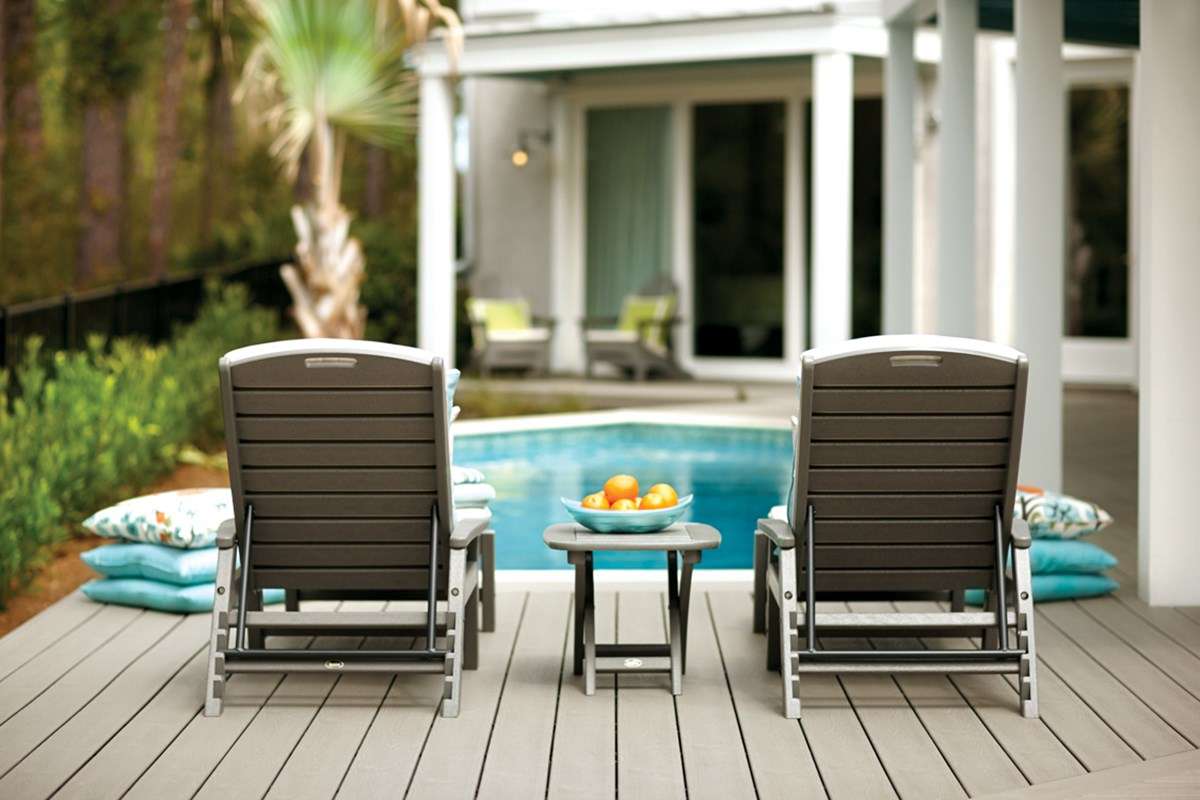 Best Materials for Above Ground Pool Decks
When it comes to building an above ground pool deck, there are a few commonly used materials. But which is the best?
Composite Decking For Above Ground Pool Decks
One of the main reasons why composite decking is such a popular choice for above ground pool decks is its ease of maintenance. Composite decking, such as Trex®, has several other advantages over the competition. Composite decking does not get as hot as PVC decking -- a welcome feature when you're walking around barefoot on your deck on a hot summer's day.

Composite is also resistant to moisture, rot, and warping, which is critical since your deck will be in the thick of all the splashing action in the pool. Trex composite decking is also stain-resistant and fade-resistant, which will keep your deck looking like new despite prolonged exposure to UV rays and chlorinated water.
PVC Decking for Above Ground Pool Decks
PVC decking is another popular choice for above ground pool decks. Like composite, it's resistant to rot, mildew, and moisture due to its all-synthetic composition that lacks absorbency. However, there are a few differences between PVC decking and composite. Because it's non-absorbent, PVC decking can be slippery. This can pose a potential hazard when there's a lot of splashing, playing, and running on an above-ground pool deck.
Another drawback of plastic decking is that some untreated PVC products can peel or fade over time, diminishing the attractiveness of your deck. Although PVC doesn't require the regular maintenance of wood, it can splinter or crack under cold temperatures. This is something to be mindful of if you live in a colder climate and don't want a disappointing surprise when you open your pool for the summer.
Wood Decking for Above Ground Pool Decks
Wood has long been a go-to for building above ground pool decks. Prized for a beautiful, natural look, many builders and homeowners look to wood as a solid option. While different types of wood have different strengths, it's a high-maintenance material that requires seasonal upkeep.
Wood doesn't get as hot as PVC when in direct sunlight, however, while you won't get a case of hot foot when walking barefoot on your deck, you may get a splinter since wood can warp and splinter over time. When comparing wood to composite pool decking like Trex, wood is subject to moisture-related rot, fading, and staining from exposure to pool chemicals. This can make your above ground pool deck look worn and aged before its time, unless you submit to a regular regimen of sealing and power-washing. In addition to being vulnerable to the elements, wood is also prey to termites and insect infestation, which can compromise the structural integrity of your deck.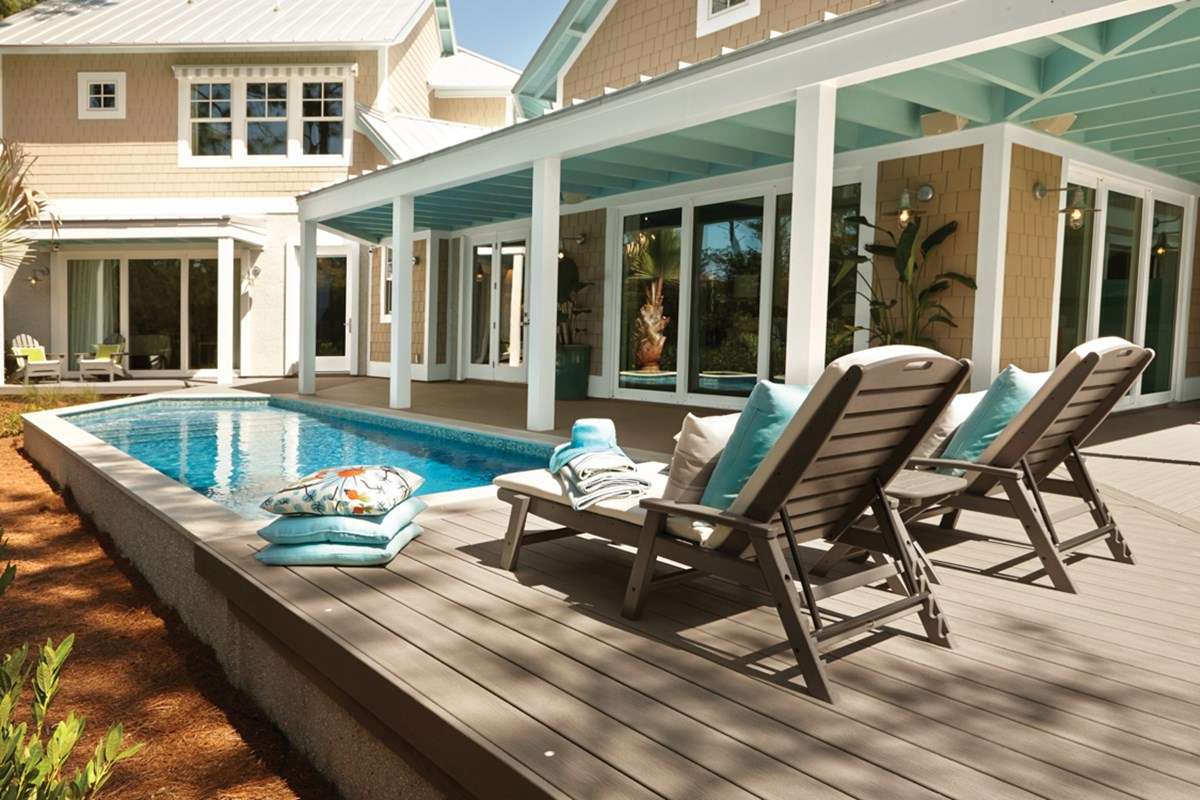 Trex Products for Above Ground Pool Decks
Trex offers a number of products suited for above ground pool decks. Check out Poolside collection, made with summer, sun, and splashing in mind. Don't forget to have a sound structure in place for your above ground pool deck. is made with triple-coated steel beams, joists and tracks to create a rust-proof, moisture-resistant substructure for your deck.
How Much Does It Cost to Build an Above Ground Pool Deck?
A variety of factors go into the cost of building an above-ground pool deck, including the types of materials used, size and style the deck, any additional structures required based on local building codes, and the cost of labor if you hire a contractor.
On average, the cost to build an above ground pool deck can range between $4,700 to $7,800. In some instances, an inexpensive above ground pool deck can cost $2,000. However, some decks can cost significantly more, depending on size and how elaborate the design. Costs vary depending on geographic region, time of year, and whether you choose to purchase materials on your own versus the cost of materials and labor if you've hired a professional.
To get a better idea of what the above ground pool deck of your dreams may cost, check out our cost calculator page and explore your options.