« All ideas
How-To
Considerations to Make When Building an Above Ground Pool Deck
So, you've finally decided to break ground for a new above ground pool. Congratulations! Chances are, if you're installing a new pool, you'll likely want a beautiful new deck to accompany it your latest backyard acquisition. However, designing a deck for an above ground pool is a little different from designing a deck that exists off the side of your home or patio.
Before you cannonball into the deep end of above ground pool ownership and building a deck, it's important to think about some of the hidden costs and plan for the future. This way, you can set aside ample budget for your project and head off any future problems at the pass.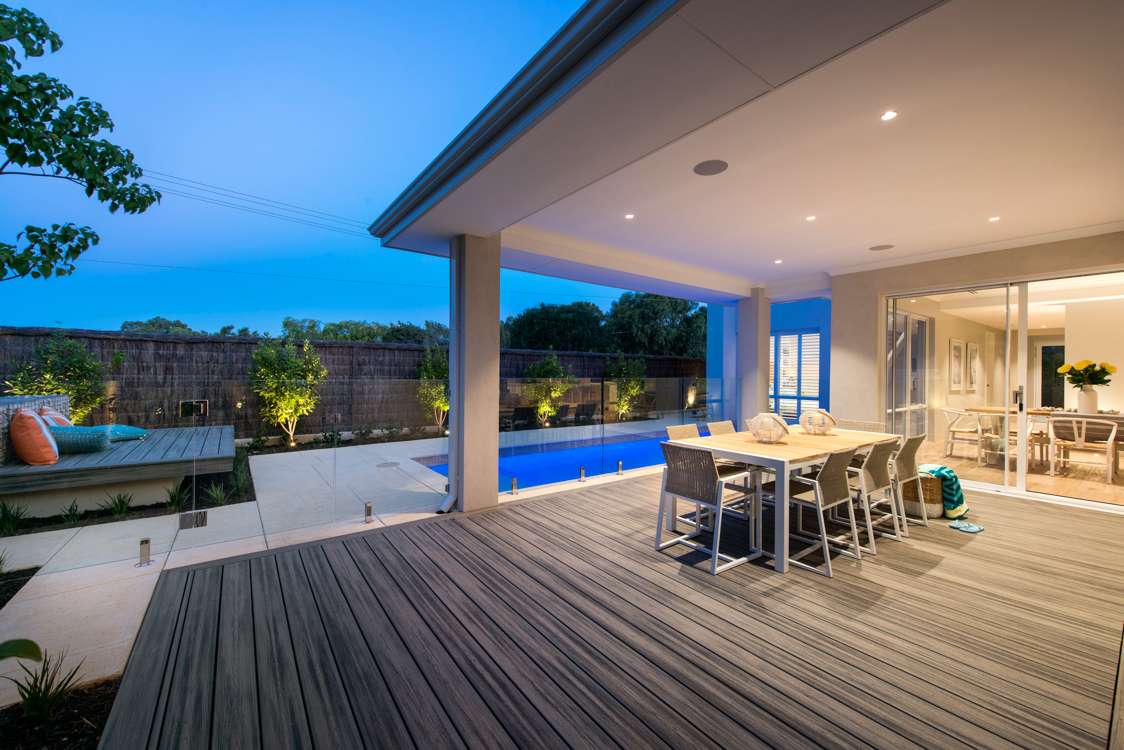 Before You Start Building Your Above Ground Pool Deck
Here are some items to keep in mind before you DIY or enlist a professional to draft a plan for your above ground pool deck:
Go DIY or hire a pro?
The biggest consideration is to attempt to build an above ground pool deck yourself, or if it's better to hire a contractor. Your decision may depend on your construction skill level, the amount of time you have to complete the project, and your budget. Regardless of which route you choose, Trex has an extensive library of tutorials to help you build your deck, including a DIY deck building checklist and a list of questions to ask when choosing a contractor. We can even help you find a pro to build your deck.
Wait Until Your Pool is Installed
Don't build your deck first and hope it fits around a pool you choose. While above ground pools have standardized wall heights (48", 52" and 54"), every pool will be a slightly different. Don't take a chance on building a deck and not having it work with the new aquatic centerpiece of your garden.
Budget for fencing.
Any yard that has a pool must have a fence. While regulations as to how high these fences may vary between states and municipalities, building and safety regulations require pool owners to have a fence as a safety precaution. Prior to breaking ground, be sure your fence complies with local building codes. And if you don't have a fence, be sure you have earmarked part of your pool and deck-building budget to include constructing one.
Choose Your Decking Materials
When it comes to choosing materials for your above ground pool deck, the most common choices include composite, PVC, and timber. While the material you choose depends on personal preference, you also want to use the right components to ensure your above ground pool deck is stable and durable. Composite is a solid choice because it looks like timber but is easier to maintain. Unlike PVC and timber, composite is resistant to moisture, rot, and warping, which means you can spend more time enjoying your pool deck instead of cleaning or fixing it.
Develop Your Deck Plans
Whether you want to find a contractor or DIY, it's a good idea to spend some time planning your above ground pool deck before you begin construction. Browse through above ground pool ideas and deck plans to find inspiration and bring your creative vision to life. This planning phase allows you to make fun and important decisions like choosing the color, structure, pattern, materials, and layout. Not sure where to start? Our pool and hot tub deck photo gallery includes pictures from real-life pool deck applications. Flip through the gallery to see what's possible and then contact Trex so we can help you bring your dream backyard to life.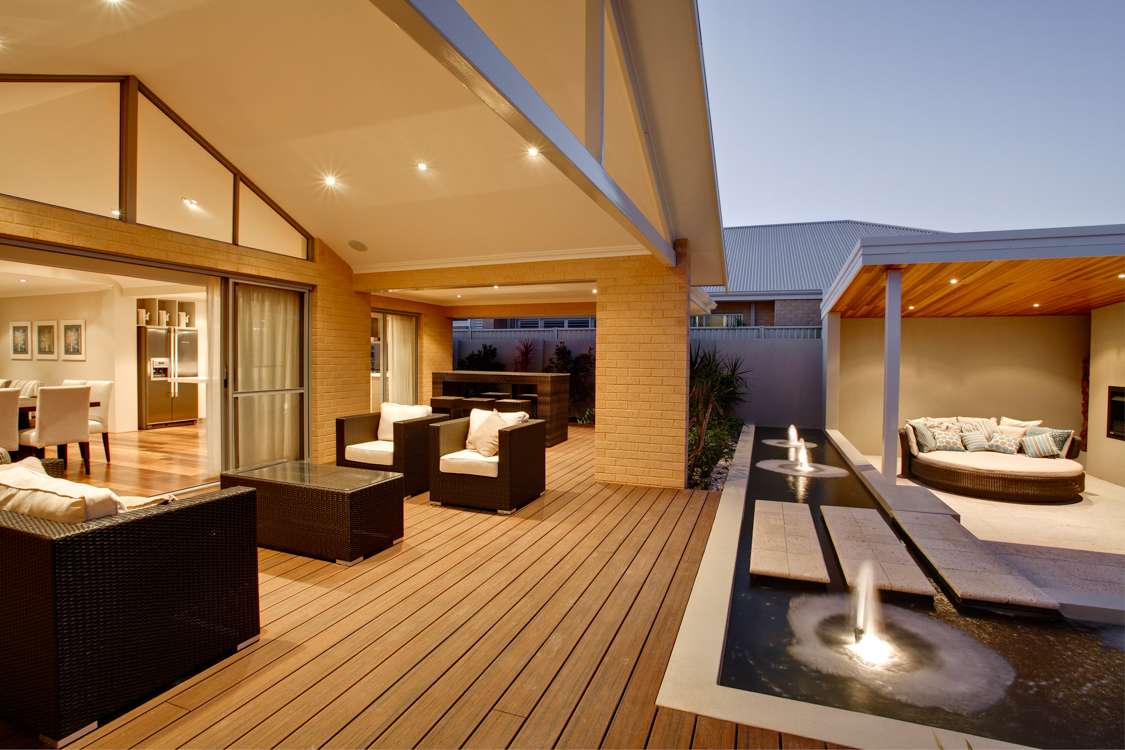 When You Start Building Your Above Ground Pool Deck
Build Your Deck as Close to Your Pool as Possible.
Perfectly aligning your pool's decking boards with the lip of your pool is not only an attractive design feature, it's a great safety-feature, too. It keeps the ground level for those getting in and out of the pool and can help minimize trips and falls over any pieces that jut out.
Run Decking Boards Beneath Your Pool Rails
At some point in the distant future, your pool may need its liner changed out. If your deck hasn't been planned correctly, your installer may need to cut your deck to change the liner, ruining a beautifully constructed deck. To prevent this, take into account that most above ground pools have a top railing that either screws or snaps into place on the pool's frame. Having your boards run beneath your pool rails can make it easier for an installer to remove them to change your liner without having to cut into your deck to make the swap.
Build a Separate Structure to Protect Your Pool Equipment.
Many people opt to place their pumps and filters beneath their above ground pool deck. While it looks neater and protects your equipment from the elements, it can make it much harder to change filters, oil parts, and maintain the equipment that keeps your pool clean and functioning. Instead, situate your equipment to the side of your deck. If you don't want it exposed, build a smaller structure to contain your pumps, filters, and equipment. (Pro tip: Repurpose any waste lumber from constructing your deck to build housing to keep your pool equipment out of sight.)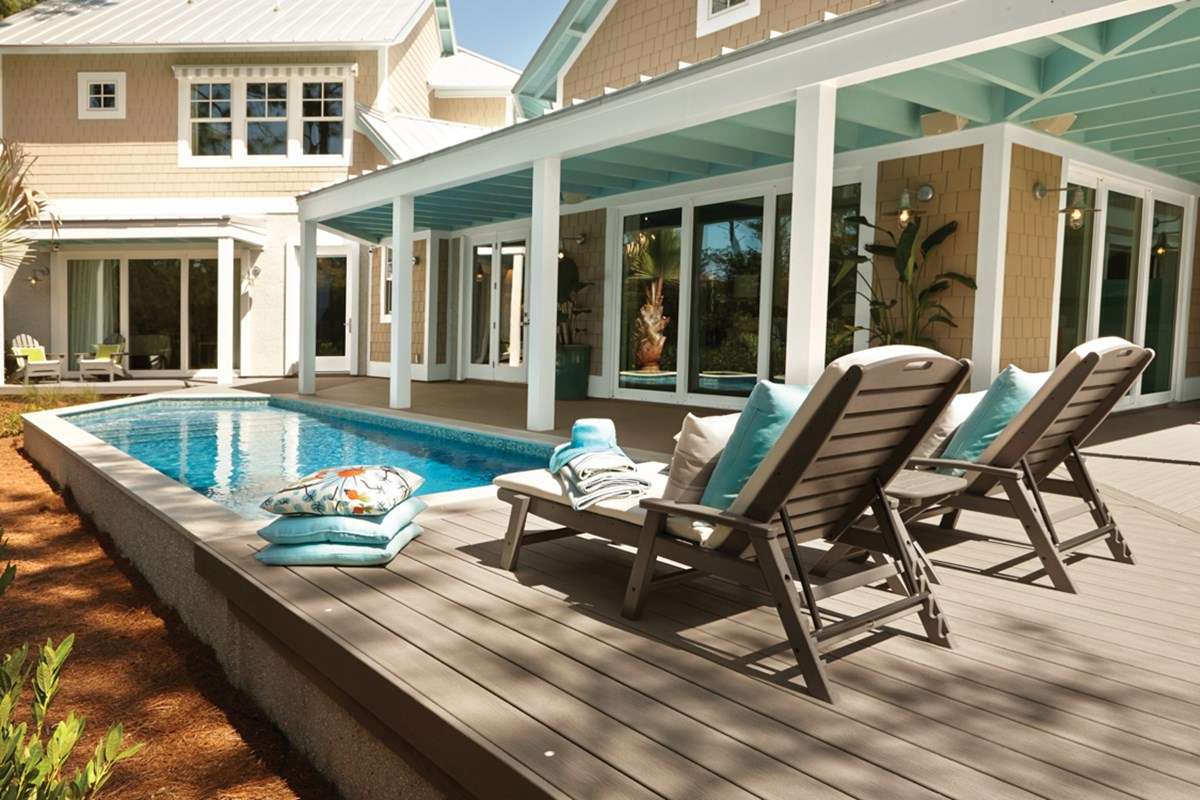 How Much Does It Cost to Build a Deck Around an Above Ground Pool?
As many styles and options as there are to build an above ground pool deck, there are just as many variables when it comes to the costs associated with building a deck, including:
The size of your deck: The bigger the deck, the bigger the cost to build it. 'Nuff said.

Cost of labour: If you are confident enough in your deck-building skills and plan to go the DIY route, you can save money on labor costs associated with a professional contractor. While it can be relatively simple to calculate the cost of materials needed to build your deck, there are multiple factors involved in determining the cost of labor for a professional. Factors such as time of year, weather, the size of the job, and the complexity of the design will all impact the cost of labor when building your above-ground pool deck.

Cost of materials: Your choice of natural wood, plastic, or composite will impact your cost. However, if you choose natural wood, the cost of specific species of wood can vary depending on what's available in your geographic region and the strength of that wood. While you may have your heart set on a California Redwood deck, if you live in the Northeastern part of the U.S., it may cost more than the wood itself to ship it to your location.

The pattern of your deck: Decks that have boards going across in a standard, horizontal pattern will require less material and less waste. However, decks that arrange planks in a more elaborate, decorative pattern or opt for inlays may inflate the cost of both materials, waste, and labour (if you opt to hire a contractor).
As you plan your above ground pool deck, make sure to keep your total budget in mind. While the final price will vary based on materials, features, patterns, and installation, the cost to build a deck around an above ground pool can range from 3,736 AUD - 13,344 AUD for more elaborate designs. Contact a Trex professional to get a more accurate price estimate.
Make Your Dream Pool Deck a Reality
Having a gorgeous deck can enhance the enjoyment factor, giving you space to lounge poolside and make the most of your new swimming pool. However, keep an open mind when planning. Don't feel tied to a specific design or material if it's not within your budget. A knowledgeable, trustworthy builder can help guide you in the right direction and help you strike the right balance that you, your family, and guests will enjoy for years to come.
Need help finding a professional to help you build a deck?